Construction Clean Up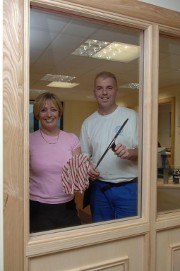 Gordons Cleaning offers post-construction cleaning and maid services to both residential and commercial customers throughout Scotland. This cleaning service is specifically designed for homeowners or businesses who have done remodeling and need to rid their home, office or apartment of the dust and minor debris that is left behind.
Gordons 'Mollies' are post construction cleaning specialists They are all highly trained cleaners who are extremely familiar with the needs and requirements of this very special and detailed cleaning service.
Post construction clean up services are usually the final trades on your project and they are the ones who leave all your hard work and skill ready for that most important client's first impression. An experienced team leave a finish that complements the detail and high standards that you have strived for whereas lesser cleaners can make even the best professional's work look less than is required.
At Gordons there is No Job Too Big!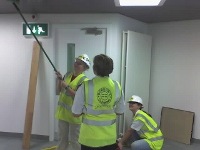 Gordons Cleaning have a proven track record gained from having worked with many of our countries leading construction firms.
Gordons are able to provide you with all the specialist equipment and tools that are required to complete the job including those environmentally friendly cleaning chemicals that help to make the job safer and healthier for everybody right down to the anti-pollutants mixed with any waste that needs to be washed down to the sewer system.
Construction Clean Up - Before and After photos

Please call today to arrange a suitable time for you to meet and discuss your requirements. You can take advantage of our worry free offer of a no-obligation consultation and provide you with a written costing to complete the agreed task. You will not be given guesses or estimates as we lay out all the costs involved and guarantee the price.
Please contact us for more information or your free quotation