Contract Cleaning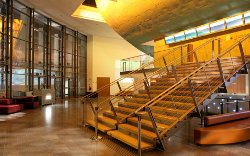 Contract cleaning is about maintaining the presentation standards of your business, always showing off your office space in its best light and not about waiting until it is dirty and giving the wrong impression to your present and future clients and then (too late) trying to play catch up.
Don't wait until your business NEEDS cleaning - organise a regular cleaning program TODAY. The benefits of a clean, healthy and productive office environment where clients can see your attention to detail before you even begin to tell them are many, on the other hand, the amount of lost business due to presenting an untidy, uncared for environment is immeasurable.
Gordons Cleaning where No Job is Too Big will tailor an individual cleaning program to suit your business and budget from the first impressions of the clean tidy car-park, the clean working signage and sparkling windows all the way through to the safe removal and re-cycling of your waste.
Gordons Cleaning - your type of cleaning service!
Gordons Cleaning services properties ranging from the smallest storefront to multi-storey office buildings. Our customers include restaurants, apartment complexes, churches, entire shopping centres, office and medical buildings, government buildings, and everything in between.
We also work with real estate, property management, and janitorial companies to perform window-cleaning services for their clients. Especially as we use the latest, safest and most effective methods available.
Many multi-unit accounts desire a single point of contact for service vendors. Stop managing multiple vendors for your window cleaning needs.
With one phone call to our office, we will put Gordons Cleaning at your service.
Please contact us for more information or your free quotation