Employer of the Year!
Gordons Clean Up at Award Ceremony
The 2010 Government backed National LEP Awards held at Kirkcaldy Fife on the 21st July was attended by over 150 of the countries top businesses, including many of Scotland's top money makers. Amongst the invited guests were the Scottish Policy Convener for The Federation of Small Businesses based in Glasgow Mr Andy Wilcox OBE and the Chief Executive JCP for Scotland Mr Alistair McDonald.
The JobCentre Plus Awards 2010 is a celebration for employers. In difficult times such as the recent recession it's more important than ever to celebrate the successes of businesses in our local communities and nominations from companies of all sizes across England, Scotland and Wales were invited.There are five category options entered on a region/country basis.
Gordons Cleaning of Perth were delighted to win their nominated category "Diversity in Action" for their work with employing staff from within their local area and proving their belief that there are no barriers when it comes to sourcing quality people, offering the age spread of their team from 16 to 72 as only one of the many examples.
However when the overall winner of The Small Business Employer of the Year for Scotland Award was announced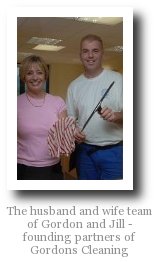 Gordon and Jill the partners of Gordons Cleaning were swept away with surprise.
Who would believe that just 10 short years ago Gordons Cleaning was one wee window cleaner with a bucket and a ladder who walked door to door along with a wife who cleaned the houses while their two young children delivered hand-drawn leaflets and collected the money to today partners in a seven figure annual turnover business with an envied list of Scotland's top business as clients, a staff of 30 and with supporters from the rich and famous.
Gordons have succeeded in being recognised as a 'professional' service provider within an industry often seen as casual labour.
Please find below a selection of generous goodwill messages Gordons Cleaning received from many of their proud and supportive clients:
With the excellent level of service that we have received from Gordon's Cleaning over the last four years this comes as no surprise you both deserve these awards for your hard work, dedication and nothing is too much trouble attitude, congratulations

Anne Smith
Managing Director, Castlecroft Securities Ltd.
This is an amazing award, a reward for all your hard work and dedication you both have put into the business over the last number of years well done to you both...

Brian McNeill
Continuous Improvement Manager, Highland Spring Ltd
That is absolutely fantastic news - two awards, both very well deserved - it really is.

Sara Wood
Director of Communication & Corporate Development, UHI Millennium Institute
Congratulations that really is BRILLIANT good news ...

Victoria Unite
Chief Executive, Perthshire Chamber of Commerce